Why Choose Aluminum Grando?
16/03/2020 - Tác giả: Grando
Why choose Grando Aluminum?
As one of the pioneering enterprises in the aluminum industry, from the very beginning with his first step into the profession. With nearly 30 years experience in the business and production of aluminum profiles. With its creativity and continuous innovation, Do Thanh has made strong changes in product quality and affirmed the stature of Grando brand. Why choose aluminum Grando:
1. Quality products, enduring with time:
Grando Aluminum Aluminum profile bar with optimal and sophisticated design, which means the inner cavity creates effective sound insulation. In addition, with the coating technology, Anod makes aluminum products aesthetically pleasing and easy to clean.
2. Modern production technology:
Do Thanh Aluminum Factory has the highest rate of automation in the country, using the most modern production lines and technology in the world with 9 extrusion lines and electrostatic painting lines, Anodized coating from houses providing leading equipment such as Germany, Switzerland… .. Environmentally friendly production systems, ensuring safety in production and saving fuel.
3. Good service
Enthusiastic customer care team with good customer warranty and policies. We hope to conquer even the most demanding customers. Compared with other aluminum products on the market, Grando Aluminum is a wise choice because domestically produced with a clear origin, the price will be cheaper than imported aluminum products.
4. Diverse product models and applications
Diverse product designs, widely used in furniture production and construction, industrial aluminum in different types of buildings such as high-rise buildings, apartments, villas, industrial parks, houses, ...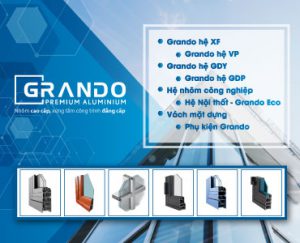 With the motto "quality is the survival of the company" Do Thanh Aluminum with Grando Aluminium brand name is always the best quality aluminum profiles.